CHULMLEIGH BUSINESS CLUB
Chulmleigh Business Club was formed in May 1998 when 24 of the local businesses first met and decided they wanted to:
i Collectively pull together for the benefit of the community in the Chulmleigh area
i Promote the vibrant business community that exists in Chulmleigh,
i Encourage an open forum for discussion of business problems and matters of common interest.
i Provide opportunities for inter - trading between members, and
i Arrange for speakers on specialist subjects.
The Business Club operates as informally as possible. Meetings are held approximately every three months and there are some 80 local businesses that are able to participate in Club activities. The Chairman, Secretary and Treasurer are elected each year in accordance with the Constitution.
Since the Business Club was formed it has designed, obtained grant aid and set up the Community Web site, www.chulmleigh.org, and complementary information brochures, contributed to the Parish Council led Regeneration Project and Village Design Statement, made recommendations for the improvement to local amenities and supported local events and initiatives.
The latest project has been to arrange and provide substantial funding for improved tourism signage on the A377 which will tempt people to visit the town rather than pass by.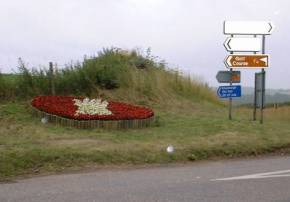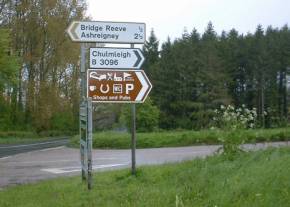 Old Signs and Chulmleigh in Bloom Flower bed New Brown Chulmleigh Sign part-funded by
Bed sponsored by Chulmleigh Business Club 2003 Business Club 2004
Local businesses