Leisure Pursuits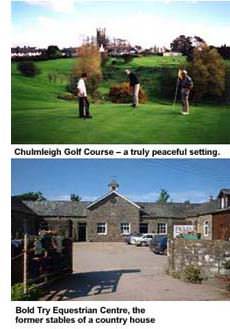 As befits a truly rural community there are a host of outdoor pursuits on your doorstep when you stay in Chulmleigh.

Chulmleigh Golf Course is one of the finest short 18 hole courses open to the general public. The panoramic countryside views include the peaks of Dartmoor while closer by, the thatched cottages and the Church with its beautiful tower, ensure a very peaceful and relaxed setting.

Further down Leigh Road is Bold Try Equestrian Centre. Open all year they keep about 20 horses and ponies, 'from Thelwell to Thoroughbred'. They will take you hacking through the beautiful countryside or help you improve your riding skills in the outdoor school. The Centre also provides riding holidays for up to five children at a time.

The Chulmleigh link of the Tarka Trail, Little Dart Ridge & Valley Walk and Two Moors Way, is part of the national long distance footpath network. The semi-ancient local woodland around Chulmleigh and in nearby Eggesford Forest also has some beautiful, tranquil walks and is home to the rare wood anemone, wood sorrel, pignut and spurge.

There are many routes to walk or cycle through Eggesford Forest which is managed by the Forestry Commission. In Heywood Wood (part of the forest), there are the earthen ramparts of a Norman motte and bailey castle and some unusual specimen trees such as a huge Chile Pine (monkey puzzle tree) and a Western Red Cedar. Eggesford Garden Centre has a cafe with beautiful views of the Taw valley and stocks a wide range of plants.

The River Taw rises on Dartmoor and flows along the Taw valley, through Eggesford to the estuary at Barnstaple. One of its tributaries, the Little Dart, runs through Chulmleigh. All along the river banks keen birdwatchers can spot herons, kingfishers, cormorants, goosanders and dippers. In the summer months chiffchaffs, tree creepers and wood pigeons are abundant in the woods, whilst wrens and yellowhammers nest in the hedgerows. The soaring buzzard prefers the wooded areas and open fields.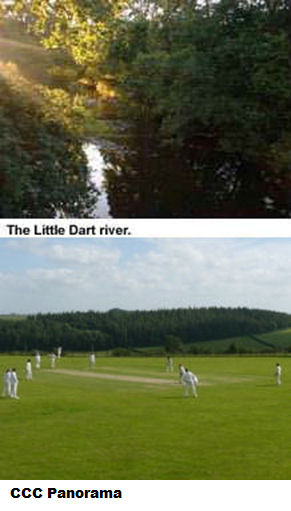 Fishing is a popular sport in the area. While the Parish is bounded by the Taw and Mole, it has its very own streams in the Little Dart River, Catham Lakes and Huntacott Water. The Little Dart is an important catchment in its own right. It is a 'late running river' – that is, the fish do not arrive until late in the year, and is good spawning for salmon and sea trout. The Taw is a top river for Spring run salmon and from May, several runs of sea trout. The river has a large number of brown trout resident all year round.

Fishing is from the 1st March when both spinning and fly fishing may be used but from 1st April until the season closes on 30th September it become fly fishing only. Day tickets are available for the Taw from Fox and Hounds Country Hotel. There are also several coarse fishing lakes in the vicinity.

Deer and foxes were probably hunted locally by the Courtenay family in their Deer Park during the 14th Century, and before, by Athelstan, grandson of King Alfred, in the 9th century. The local foxhunt is the Eggesford Hunt based at Wembworthy while the local staghunt is based at Tiverton Stag Hounds, one of only four staghunts in England. The rivers are walked by the mink hounds of the Cheriton Hunt and other members of the Devon and Cornwall Mink hunt. During the winter there are many pheasant shoots, from large, commercial to smaller, private ones.There are organised or walk up days and specialised night shooting is also arranged.

Chulmleigh & Mid Devon Cricket Club (founded 1880) plays regularly in the season with fixtures against local friendly sides and touring sides. The ground can be found near Cricket Close and overlooks an idyllic view of the Little Dart valley and away to Dartmoor. Excellent cricket teas are provided and anyone who wishes to stroll down to the ground, watch some cricket, enjoy the view and have a tea is most welcome. We run a senior side playing every weekend with some mid-week games and also have a thriving youth section with Under 9, 10, 11, 12, 13 and 15 sides playing in North Devon Leagues and managed by our own ECB-qualified coaches.

There are two tennis courts at the Community College